Since joining RSG as a Principal in August 2021, Johanna Zmud, PhD, has settled in but not settled down. Recently, her industry-recognized expertise has led to invitations to present at the ITS World Congress in Hamburg, Germany, in 2021 and SXSW in Austin, Texas, this year. She has also been named an ITS Senior Fellow by the Institute of Transportation Studies (ITS) and received an Outstanding Industry Contributor Award from the Zephyr Foundation.
After what has turned out to be a whirlwind first few months at RSG, we wanted to conduct a Q&A with Johanna Zmud. She was kind enough to sit down with us for an hour during which time she offered her thoughts on everything from pandemic-related travel behavior changes to automated vehicles. We have compiled her insights in this article, which has been lightly edited for concision and clarity.
Is there such a thing as a "new normal," or have we found ourselves in a period of perpetual change? If it is the latter, how do we account for that in the work that we do with our clients?
I like to begin any conversation about pandemic-related travel behavior changes by asking my audience what "normal" means. In my mind, normal connotes stability or predictability. But anything approaching "normal" or a "new normal" is no longer possible. That ship has sailed. As was true even before the pandemic, we are now better served by monitoring and tracking the present state of change.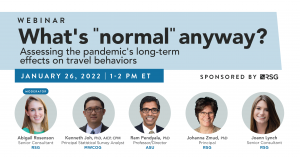 Johanna Zmud participated in an RSG-led webinar in January that sought to assess the pandemic's long-term effects on travel behaviors.
In 2015, I began researching automated vehicles. I wanted to monitor how public perception of these vehicles would change as people become more familiar with this new technology. Early on, we found that approval was quite high. Then a couple of high-profile crashes caused those public perceptions to decline. We would not be able to understand that change as it happened if we did not monitor and track it.
Some early pandemic insights from Euromonitor and J.D. Power suggested that people's acceptance of automated vehicles would increase due to the desire for physical distancing and home delivery. Before the pandemic, a lack of trust in technology was the biggest barrier to the acceptance of automated vehicles. Then the pandemic showed people that new-to-them technologies like Zoom or online ordering and delivery work.
What we have also seen across the COVID-19 survey datasets is that people's travel decreased during the pandemic. But now we are seeing personal vehicle travel near prepandemic levels—at least for some modes. Like air travel, transit use suffered an early and steep decline, and it remains much lower than before the pandemic. We can point to many reasons for this, including that transit is primarily used by commuters—and more people are working from home now than at any point before the pandemic.
The best we can do is monitor and track these trends. For this reason, I am excited that RSG is continuing the COVID-19 Transportation Insights Survey, which is now in its tenth wave. This survey—and others like it—help us understand not just present behaviors but changes in those behaviors over time.
Can you talk a bit about the intersection between public health and access to transportation? Similarly, how do you envision telehealth playing a role in the future?
People cite several statistics to convey the scope of the issue facing planners grappling with how to support access to health care services. Data cited by Mobility Lab indicates that approximately 20% of people aged 65 or older lack a driver's license. The latest data available also indicate that there are 54 million Americans over age 65; that number is expected to grow to 70 million by 2030. Most seniors also lack access to reliable public transport. This creates a huge population that potentially cannot easily access health care.
One of the arguments for automated vehicles has been that people who do not want to or cannot drive could then more easily access health care. Many of these people also live in rural areas. This makes it a bit more challenging to provide access to technology-enabled mobility services. This is because one of the prerequisites to providing these types of services at scale is density. However, some organizations have found a way to make it work. Feonix Mobility Rising is a nonprofit that is trying to close the gap and deliver transportation services to underserved populations. They originally started by serving veterans trying to access services.
When it comes to telehealth, this has long been viewed as a positive support for people without access to transportation. However, before the pandemic, there were limitations that stymied wider adoption. People were often unable to offer telehealth services, including many providers who did not have access to the necessary technology. Throughout the pandemic, the Centers for Disease Control and Prevention supported programs to deliver telehealth to more rural communities, many of which lack access to reliable transportation. This is a positive change precipitated by the pandemic.
Early in the pandemic, McKinsey found that telehealth use surged, with 32% of all office and outpatient visits occurring via telehealth in April 2020. By the summer of 2021, McKinsey found telehealth use had stabilized, comprising between 13% and 17% of all visits. RSG's own COVID-19 Transportation Insights Survey showed telehealth use peaked early in the pandemic. It has held relatively steady since, with around 20% of people indicating they have attended a medical appointment/visit virtually or by telephone within the last month (as of September 2021). As we begin to consider the longer-term effects of telehealth, understanding whether people continue to use it is important. As researchers, we should begin asking in what circumstances people choose to use one or the other [in-person vs. telehealth].
What were some of your main takeaways after attending and presenting at the ITS World Congress in Hamburg, Germany, last fall?
Equity was top of mind during the most recent ITS World Congress. For many reasons, our society is now more focused on equity than it was in the past. Broader social and cultural movements are also raising the profile of equity in the context of transportation. The environment in which transportation professionals are doing their work is now one that prioritizes equity.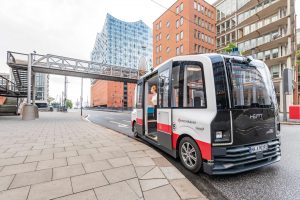 An automated vehicle at the ITS World Congress. © ITS Hamburg 2021 GmbH
When one thinks about what "ITS" stands for—Intelligent Transportation Systems—it becomes easier to understand why the community of practitioners has been more focused on the engineering side to date. More recently, I have witnessed a growing interest in the social and people side of technology. Once that occurs, people start considering populations who have historically experienced travel disadvantages. And many of these same populations have not benefited from new mobility technologies yet.
One example I often cite comes from focus groups I led with people with low vision, people with hearing loss, and people experiencing mobility challenges. We were asking about new mobility. At first, in the focus groups, I felt odd mentioning bicycling to people with low vision. But during the discussion, these people told us they also liked exercise and asked us why the bikeshare programs did not provide tandem bikes or the ability to pedal with their hands.
People assume, often incorrectly, that certain populations do not want some options. Planners should not assume that some things do not work for certain people. We need to talk and hear from them first. Based on these experiences, my own personal definition of equity is giving people options to choose from and letting them pick what works best for them. People should not lack options because of who they are or where they are. We should all have the option to choose what works for us in a particular situation or context.
Related, one of the ways the ITS World Congress event sought to better connect planners with the public was through "Public Day," which opened the event up to the public for one day. I was impressed by the number of families with children in attendance. The kids were given hands-on activities. This is important because, in my research, I have found that people embrace what they know and are familiar with. We know that people who take a ride in and experience a new technology are more likely to embrace it. We need to get people familiar with and more comfortable with new mobility technology. This is extremely important to make sure that we can deploy these technologies in a way that is safer, more efficient, and more equitable.
You also attended SXSW this year and served on a panel where you participated in a discussion on mobility data. Can you talk a bit about why collaboration and interoperability are important when it comes to mobility data?
When I think about interoperability, I think about what it is we are trying to achieve. As planners, we often think about travel from the supply side. However, it is important to consider what this looks like from the traveler's side. Is the trip I am about to make safe? Is it efficient?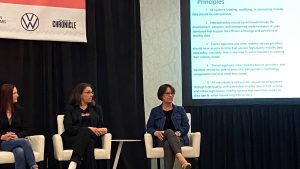 Johanna Zmud presented on a panel on mobility data interoperability standards during SXSW in Austin, Texas, in March 2022.
For instance, if I wanted to travel from my home to my workplace, then I am most interested in what modes I would use. But if the modes and their data are not talking to each other, then it becomes hard to compare. If we consider Washington, DC, as an example, the local transit authority (WMATA) has access to its transit data but does not have access to the regional Uber data or the data from the downtown scooter company. But it is starting to change.
A good example of this change is an RSG-led project being conducted in partnership with the National Academies of Sciences, Engineering, and Medicine. The goal of this project is to implement a national intercity bus atlas. This will create a centralized repository of intercity bus routes and services. Intercity bus service serves millions of people, many of whom live in rural areas, are experiencing low income, or are students. But because no government agency oversees these operators, it is largely a decentralized service. This means there are gaps.
In terms of providing the most efficient/enjoyable trip, interoperability standards for mobility data are crucial to closing these gaps. Moreover, making this data readily available makes it easier for people to move around and may increase transit ridership. This, in turn, may encourage people to give up their personal vehicles. The bottom line is we need to think bigger about what mobility access looks like and requires and make it easier for people to plan, book, and execute travel.
Can you speak to what your appointment as an ITS Senior Fellow means? What do you plan to work on throughout the remainder of your term this year?
As an ITS Senior Fellow, I have the distinct pleasure of being able to work closely with Joan Walker, PhD, who is a professor in the Department of Civil and Environmental Engineering at the University of California, Berkeley. Shortly after my appointment, Joan and I were discussing the vast differences across all the COVID-19 surveys.
Given these differences, a meta-analysis of the surveys would allow us to combine data from these selected studies and draw actionable conclusions about the impacts. What is useful about the meta-analysis we plan to conduct is that it does not just pool data as a synthesis would. Instead, it applies recognized, systematic methods to "normalize" data to facilitate comparisons between datasets. In short, we are applying statistical methodologies to account for how these are not apples-to-apples comparisons.
During our meta-analysis, we hope to focus on four topics: remote work/telework, e-commerce, long-distance travel, and transit use. Across all these topics, we want to have an equity focus and account for similarities in findings. We also want to be able to say, with some degree of certainty, what results we have confidence in. Several RSGers, including Maren Outwater and Mark Bradley, will also be involved. We are currently exploring potential funding options given the long-term policy implications of our research.
······························
Johanna Zmud, PhD, is a Principal at RSG, where she excels at bridging transportation research, data, technology, and policy. Johanna is an ITS Senior Fellow and the recent recipient of the Zephyr Foundation's Outstanding Industry Contributor Award for 2021.