Despite transportation planning's ground-based past, Jonelle Hanson has set her sights higher. In her role as a director at RSG, she is helping to develop planning and policy application strategies for a not-so-distant future where uncrewed aerial system (UAS) and advanced air mobility (AAM) vehicles take to the skies.
Since joining us last year, she has also completed her EMBA, fulfillment of which included the completion of a strategic project (named "D.go") that examined UAS as a service for commercial ports. Her project initially looked at how to develop a UAS network to assist with last-mile delivery. Such a service could lessen urban congestion and reduce emissions.
Jonelle is also currently part of a team at RSG that is completing an airport-centric AAM market study that will summarize, compare, and contrast existing AAM market studies. This project will analyze and identify what gaps remain so that airports, state and local governments, and transportation planners can identify their role in the on-demand air mobility future.
We connected with Jonelle to talk UAS, AAM, and what these technologies mean for state and local governments.
Is the transportation planning industry adequately prepared for AAM and UAS vehicles? What needs to happen, from a planning perspective, before AAM and UAS become truly ubiquitous?
We are in the early stages of planning for AAM and UAS. Future work will address safety and connectivity with other modes and offer a deeper understanding of market demand. It is an interesting time right now.
The industry is solving many of the engineering hurdles with electric vertical take-off and landing (eVTOL) vehicles. Now, they are planning passenger routes to test feasibility. The Federal Aviation Administration (FAA) is working on regulations and certification oversight for eVTOLs. Now is the time for cities and policy makers to start the public planning process to ensure AAM passenger and goods delivery service would integrate within the community.
There are early leaders in states like Ohio, Florida, Texas, and California—with working groups and studies being completed for community inclusion—but we are a long way off in terms of understanding the market demand for eVTOLs. The same goes for UAS, especially when it comes to airborne delivery as a sustainable business.
In rural areas, the convenience of UAS-delivered medicine or small goods could exceed traditional (ground-based) door-to-door service. However, residents in these regions—along with planners and policy makers—will need to establish guidelines and policies. This planning would facilitate safe operations and determine if UAS delivery is a service that would be welcomed.
For example, Wingcopter, a UAS manufacturer, has obtained the airworthiness criteria from the FAA for their unmanned aircraft and is currently working toward FAA-type certification, which will help accelerate their delivery business model. Their company offers medical delivery services that could aid small and rural communities in the United States. This is an important market. Ninety-seven percent of the United States is rural, and 1 in 5 Americans or (60 million people) live in rural areas.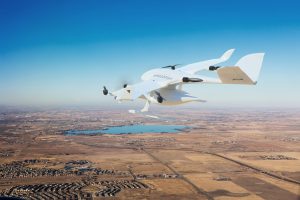 Wingcopter delivery drone. (Image courtesy of Wingcopter)
Services like those offered by Wingcopter could be a great opportunity to provide goods that otherwise might take days to receive. Ultimately, the success of these ventures will depend on the residents in the communities. They need to see the service in action and experience how it might be beneficial to them.
Despite these technological leaps and innovations, a paradigm shift is still underway. It is great to see the progress in the engineering of eVTOLs. But as a transportation planner, my interest lies in facilitating seamless travel—regardless of mode. If one mode, such as an eVTOL, provides convenience, comfort, and affordability compared to other modes, then I believe it would be welcomed in most urban areas.
However, we are a long way off from that stage. At this juncture, it is imperative to get the planning and strategic operations right. To do that, we need to understand and plan for market demand, willingness to pay, siting of mobility hubs or vertiports, noise, and safety. These are all services that RSG offers and that could be combined as part of an advanced aerial mobility study.
What strategies or regulations would support the safe and equitable deployment of these technologies?
The private sector generally wants to get its product to market quickly, so the focus is often on product development. Frequently, this can mean the development planning and strategic operations are lagging. Many companies work to address both, but few cities are planning for AAM and UAS to operate efficiently in their regions.
Plenty of testing and development of eVTOLs is underway, however. Once flight operations occur within a given test city, more committed attempts to scale up planning efforts will follow. As far as strategies and regulations, multiple stakeholders will provide input into the process.
Consider, for example, that most commercial flights utilize airports. This will not necessarily be the case with eVTOLs, which would operate within a mixed urban environment. Most AAM operations would use "vertiports" specifically designed for eVTOLs. This reality requires additional considerations of issues such as noise, visual pollution, and safety.
Locating vertiports to attract a high number of passengers will be essential to the long-term viability of any service. In addition, planners will need to consider whether vertiports should support a single operator or multiple operators. With many cities experiencing housing shortages, increasing density by building higher will allow for more residents. That said, planning for vertiports will also need to consider the surrounding land uses to facilitate flight operations.
Can you talk about RSG's work in the AAM/UAS space? Can you also speak to how this work relates to research you did in fulfillment of your EMBA?
RSG has consulted in the AAM/UAS space, including for both public and private sector entities. This work has ranged from providing market-size estimates for AAM services to examining noise emissions from UAS operations.
Currently, RSG is applying our breadth of expertise as part of an ACRP synthesis project (ACRP Synthesis 11-03/Topic S03-17) that will compile research done to date on an airport-centric vision of an advanced air mobility future. By airport-centric, this just means the AAM/UAS vehicles would utilize the infrastructure provided by legacy/existing airports.
Prior to joining RSG, I investigated (as part of my EMBA) the feasibility of a parcel hub capable of sending and receiving packages within an urban area. The idea stemmed from seeing companies like Amazon, DHL, and others conducting testing on package delivery by UAS. Once the green light occurs for wide-scale deployment of this technology, UAS operations will require infrastructure.
However, my research found that only 50% of respondents liked the idea of delivery by UAS. Even fewer wanted to pay more for the service when compared to traditional ground-based delivery options. Moreover, regulatory challenges are still being sorted through, delaying the launch of the project until after 2025.
However, part of my interest in conducting the study was to understand (as a no-risk start-up through an EMBA course) what was required to develop a business plan in this space. Through that research, my team spotlighted multiple hurdles. This, in turn, pushed us toward a new UAS delivery project with a positive return on investment for companies providing drones as a service.
······························
Jonelle Hanson, AICP, is a Director at RSG, where she facilitates the deployment of emerging mobility modes by researching how to adapt clients' planning processes to new technologies. She has also worked closely with drone start-up companies and cities on use cases to bring UAS to the market.